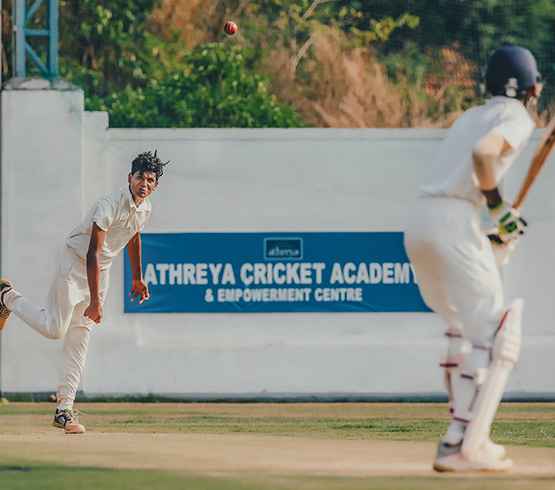 It has been keenly felt that despite the Cricket has been accepted as religion and became a passion for all there still exist a vaccum with regard to the facilities for getting trained in sport of cricket in the absence of Cricket academies with green turf cricket ground, indoor & outdoor facilities ,gym and other amenities.
Why Athreya Academy
Apart from cricket ground managed by Kerala Cricket Association there no other green cricket ground in Kerala available under private ownership.
It is with this back drop we Athreya cricket Academy has stepped in to fill the vaccum with the burning passion for the game of cricket
To identify and develop the young talents ,nurture them and groom them up in to potential cricketers by providing themall facilities and oppurtunities for their over all development physically and mentally as well which will in due course facilitate them to hone up their skills and prepare them holistically to meet the challenges ahead
What are the Merits
The Athreya Cricket Academy will concentrate on training the basics and fine tuning the cricketing skills , leadership skills allowing the players to fulfil their potentials at the highest level through innovative methods and encouraging environment which very much conductive to the learning process. This level may not normally be supported or available or achievable in schools ,colleges and elsewhere.
Provides holistic development programmes for aspiring cricketers of various age groups.
Focuses on physically development through various standard sporting facilities.
Instil mental strength ,wellness through guided supervision by experts.
Analyses Skills and Talents of Players through regular match analysis and other techniques.
Provide opportunity to interact with national and international palyers.
Provides quality cricket expertise and innovative and meaningful coaching by Experts.
Occassional Visits and talk sessions senior cricketers and coaches.
Making available the service and guidance of sports psychologist to ensure all round development of young talents,sinc mental agility is as important as physical strength in cricket .
Our academy is unique of its kind in Kerala with the best infrastructure available under private ownership equipped with a Green ground, Outdoor and Indoor nets, Fitness Centre , Video Analysis facility and other amenities to evaluate the players on an ongoing basis